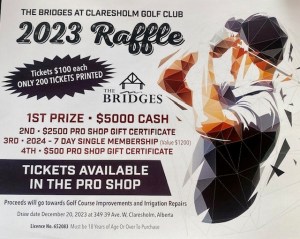 OUR GOLF PRO, LYLE BRODERSON AND HIS FRIENDLY STAFF WILL BE GLAD TO HELP YOU WITH ALL YOUR GOLFING NEEDS.
Our Pro-Shop is stocked with a great selection of merchandise. We carry 'top of the line' golf clubs, bags, balls, men's and ladies' apparel, shoes and all the accessories to help you with your game and look sharp when playing it.
Gift certificates are available for merchandise, golf and lessons.
If you have any inquiries for our Pro-Shop, the phone number is (403) 625-3500. If the staff are busy with customers, please leave a message and they will return your call as soon as they are able.